Welcome to Reykjavik! See Thingvellir National Park, an UNESCO World Heritage Site, check out the geothermal area of Geysir and stop at several spectacular waterfalls along the way.
Package inclusions
Round-trip flights to Reykjavik (If flight and hotel package option is chosen)
9-day car rental
9 nights of accommodation
9 breakfasts
Suggested Itinerary
The day-to-day locations are already set and hotel accommodations will already be booked, but what you do during the day in each location is completely up to you. Below is a suggested itinerary of things to do and see so you can get the most out of your adventure. The beauty of this trip is that you can explore the way you want to. Just make sure to get to the hotel on time!
Day 1 Depart Canada
Fly to Reykjavik.
Day 2 Welcome to Reykjavik (50 km)
Upon arrival, pick up your rental car and check into your hotel.
Day 3 Reykjavik – Vik (320 km)
Hit the road for Thingvellir National Park, a UNESCO World Heritage Site. See where the Icelandic parliament was established in 930 AD and check out the geothermal area of Geysir. Stop at several spectacular waterfalls along your route to the Vik area.
Meal(s): Breakfast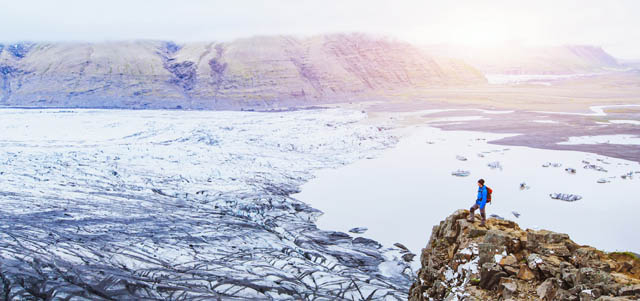 Day 4 Vik – Skaftafell National Park – Hofn (260 km)
Start your day with a drive across the impressive black sand plain, Myrdalssandur. See stunning views of glaciers along your route to the oasis-like Skaftafell National Park, and hike the trails surrounding the Jokulsarlon glacial lagoon. Take an optional 30- to 40-minute boat trip to see enormous glaciers up close. Drive to the Hofn area for the night.
Meal(s): Breakfast
Day 5 Hofn – The East Fjords – Egilsstadir (270 km)
Today, journey south through the sheltered East Fjords. In Stoovarfjordur, visit Petra's Stone Collection, one of the world's most complete collections of Icelandic minerals. Continue to the Egilsstadir area.
Meal(s): Breakfast
Day 6 Egilsstadir – Dettifoss Waterfalls – Asbyrgi – Husavik (270 km)
Begin today's adventure with a drive through the lunar-like landscape of Moorudalur. Stop at the mighty Dettifoss waterfalls, then see Asbyrgi, a horseshoe-shaped gorge with impressive rock walls and abundant vegetation. Drive to Husavik for the night.
Meal(s): Breakfast
Day 7 Husavik – Lake Myvatn – Akureyri (140 km)
Today, explore Lake Myvatn Nature Reserve, renowned for its volcanic activity and amazing bird life. Don't miss the geothermal area of Namaskard. Continue to Akureyri.
Meal(s): Breakfast
Day 8 Akureyri – Holtavorouheidi – Borgarfjordur (350 km)
Hop in the car and head through Skagafjordur, known for its famous Icelandic horses. Visit the museum at Glaumbær, travel through the Holtavorduheidi moors and stop for a dip at Deildartunguhver, Iceland's largest hot springs, on your way to Borgarfjordur.
Meal(s): Breakfast
Day 9 Borgarfjordur – Snaefellsnes (120 km)
Today, the natural wonders of the Snaefellsnes peninsula await. Marvel at the stunning Snaefellsjokull National Park and the Snaefell Glacier that towers above the region.
Meal(s): Breakfast
Day 10 Snaefellsnes – Reykjavik (280 km)
Continue your exploration of the area with visits to the ancient fishing village of Hellnar, the black lava pearl beach of Djupalonssandur and the 200-metre volcanic crater, Eldborg. Drive to Reykjavik for the night.
Meal(s): Breakfast

Day 11 Reykjavik – Return to Canada (50 km)
Return your rental car at the airport and board your flight home.
Meal(s): Breakfast
Stop dreaming and start booking! Call your UNIGLOBE Travel Consultant today!